7th generation. Lighter. Faster.
7th generation. Lighter. Faster.
A new era begins. We've put everything we've learned in 25 years of footbike manufacturing into the seventh generation. An overall weight reduction, increased stiffness, 12 millimeter thru axles, a brand new fork and better handling. This guarantees even better riding enjoyment and higher speeds without increased effort. Discover a whole new dimension today.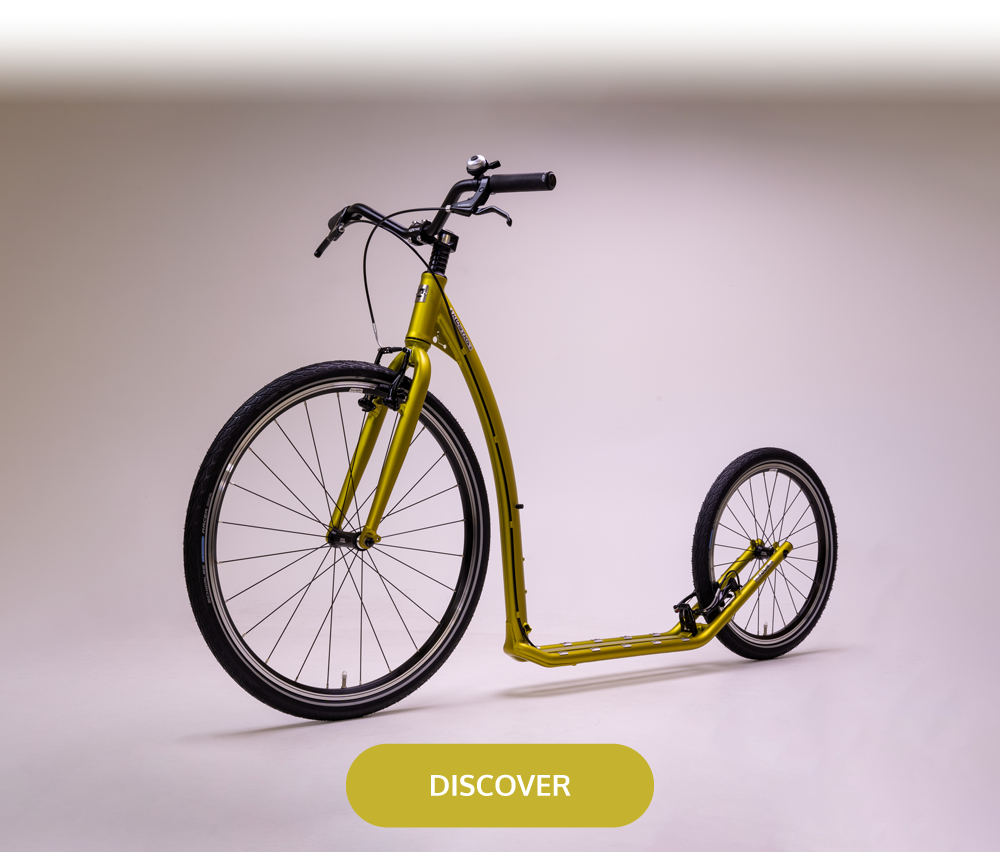 Sports. Tourist. For mobility and leisure.
This is the brand new and revolutionary KOSTKA TOUR MAX (G7) footbike. Its versatility makes it destined to conquer any surface that is put in front of you. Whether it's asphalt, light terrain or cobblestones. You'll be ready for the trail and the urban jungle. The 26-inch front wheel perfectly guides the trail, provides stability and overcomes bumps. It's not for nothing that this is our best-selling footbike model.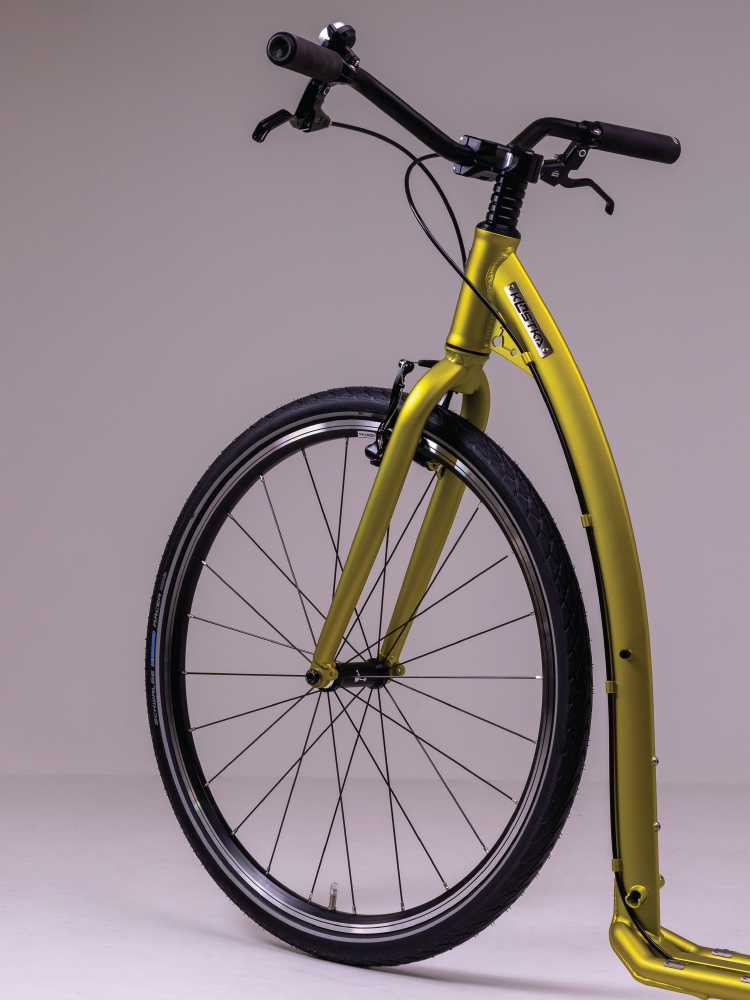 Hybrid technology. Rigid. Lightweight. Vibration damping.
Our extremely advanced and durable frame is designed for natural vibration damping, combined with the new KOSTKA AERO fork made from aerospace grade aluminium, creating the perfect combination of stiffness, vibration damping and maximising acceleration at the same time. The result is a 35% reduction in front end weight, providing a faster and smoother riding experience with every bounce. Aerodynamic drag is minimised thanks to the sleek drop profile design.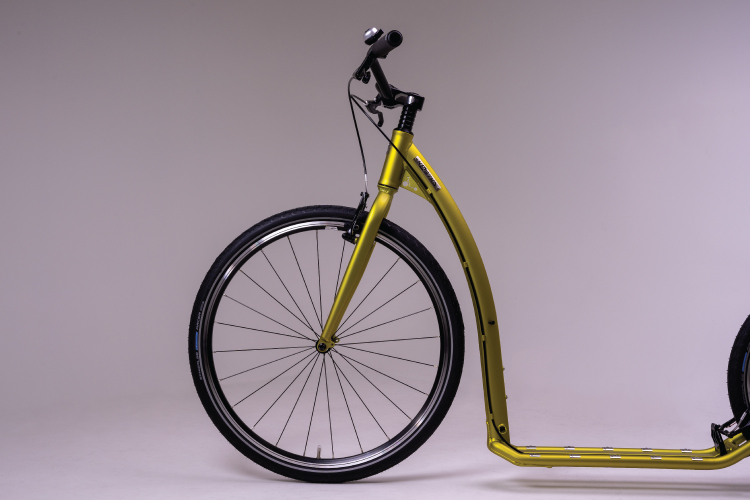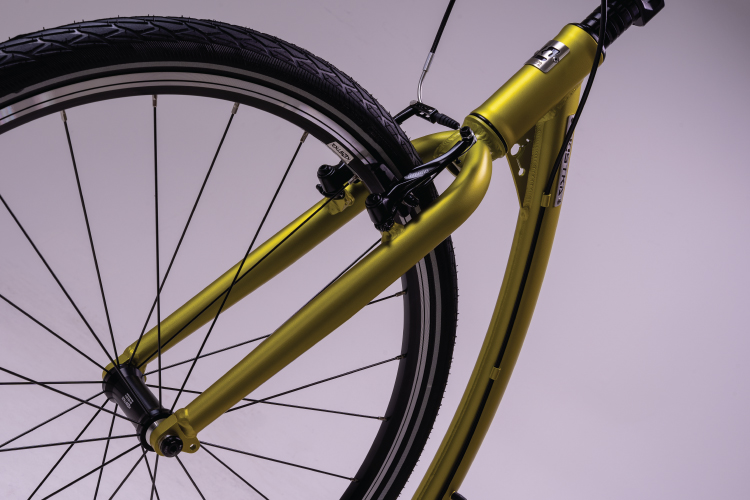 Thru axles. New standard.
Step into the future with KOSTKA 12mm thru axles on your footbike - providing increased torsional and longitudinal stiffness and stability. KOSTKA's unique system of removable floating KOSTKA Mag Ends at the rear of the frame ensure a precise wheel fit and are another identical feature. Thanks to the solid connection you get higher strength and stiffness of the construction, this means better handling and durability of the frame with the fork. Enjoy precise steering on every ride. Welcome the new standard for thru axles in footbikes.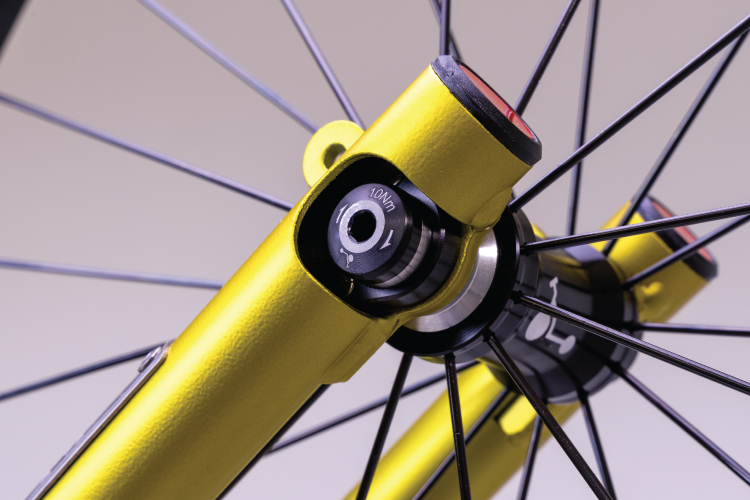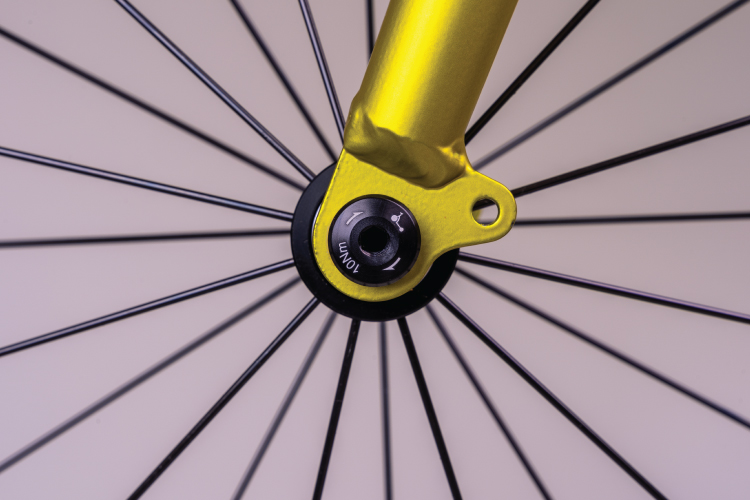 A jewel-like stem. Accessories as a bonus.
The new lightweight milled Kostka SK 2822 S2 stem made of lightweight high-strength aluminium alloy features a unique solution for quick mounting of accessories such as panniers, leash holders and other accessories. Through optimization, we were able to achieve a weight reduction of 15%. We've laser engraved our message on the stem so you'll always know where your footbike was born.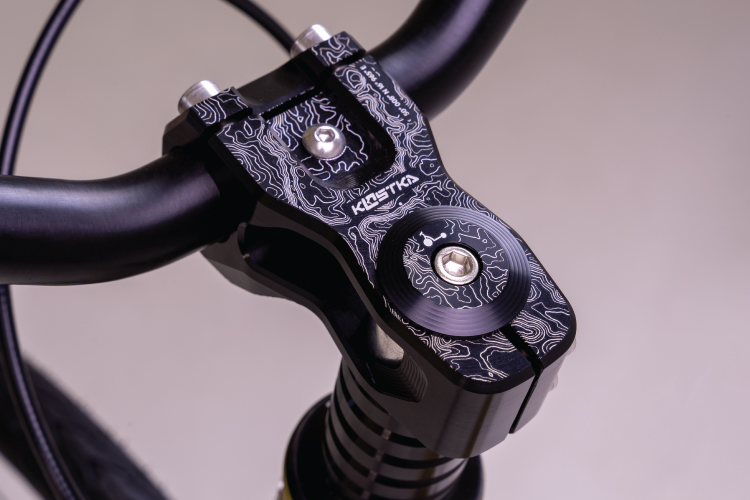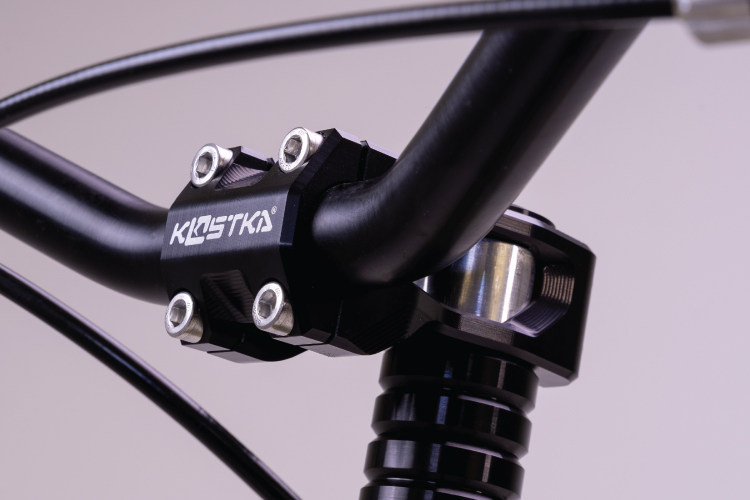 Colours reflect personality.
The Tour Max G7 is now available in five new colours.
Magic Yellow
Magic Red
Magic Blue
Magic Green
Magic Grey
These new colours not only give the footbike a fresh look, but also allow each rider to express their unique style. Magic Yellow and Magic Red are energetic and bold colours, while Magic Blue and Magic Green evoke tranquillity and nature. Magic Grey gives the footbike a sophisticated look. With the new colours, the KOSTKA Tour MAX G7 becomes not only a practical means of transport, but also a fashion accessory that will attract the attention of all passers-by.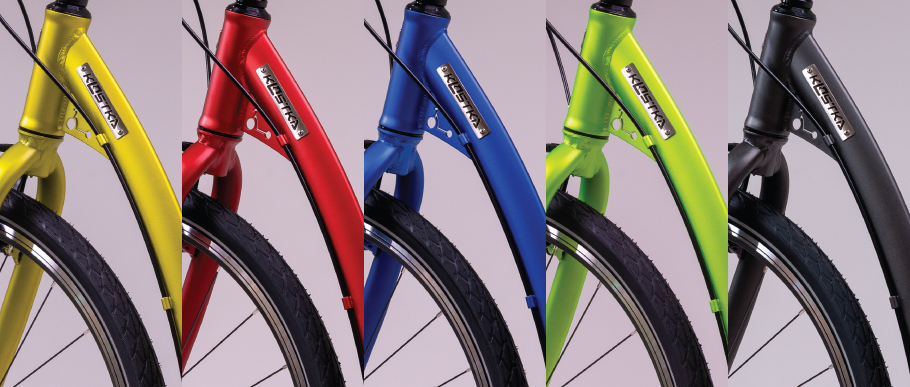 A frame proven over generations.
A frame with increased stiffness, based on a time-tested design, offering perfect handling characteristics together with an unforgettable riding experience. The drop-shaped main frame profile provides excellent aerodynamic properties and has also become an integral part of the typical KOSTKA footbike look. Increased rider space, optimal rigidity and elegant lines are the basic elements of the new generation frame.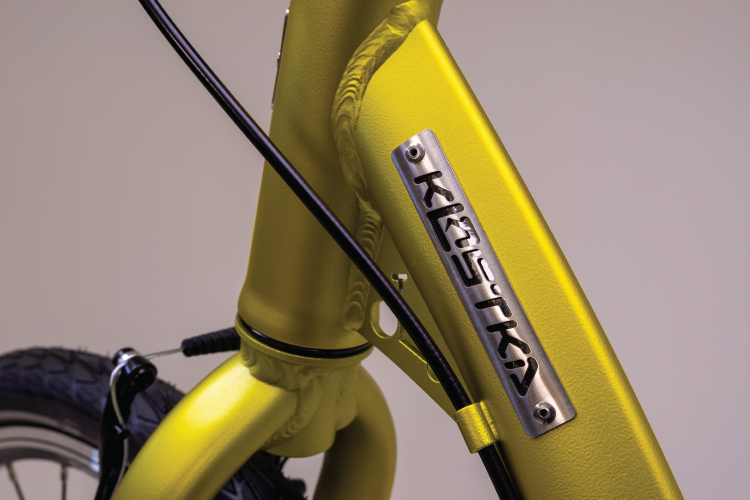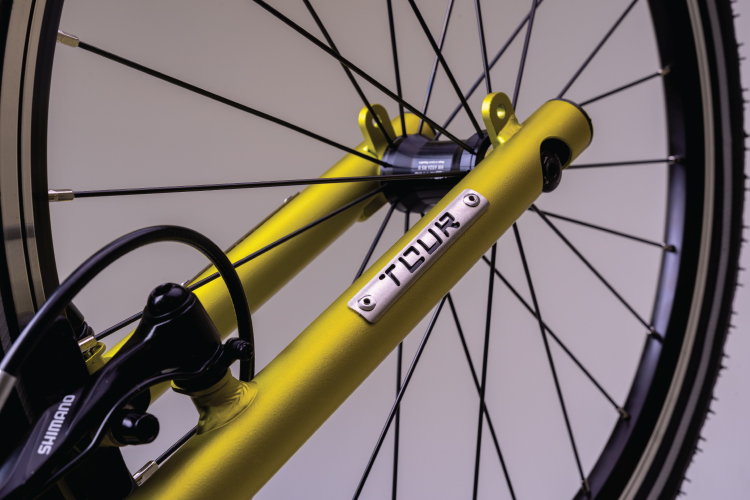 Without the ankle brace and with functional elements.
The integrated stand hole, front brace, special welds to increase the frame's stiffness and resistance to contact with uneven ground are already a standard we are rightly proud of. To increase your comfort, we have built the footbike on a tapered frame concept with a 65mm wide hub. This solution, together with the recessed rear wheel axle, prevents the rebound leg from contacting the footbike, which positively affects the overall riding comfort. The stainless steel adhesive elements on the top of the footplate ensure long-lasting footboard life and anti-slip properties.
Wheels and hubs. With low rolling resistance.
Our own hub design was developed with high functionality and easy maintenance in mind. The innovative floating fit of high quality, low friction Japanese bearings ensures precise clearance definition and therefore no complicated hub adjustments are required. Easy removal of the hub ends allows for easy maintenance. The direct knitting with Sapim stainless steel spokes guarantees high rigidity.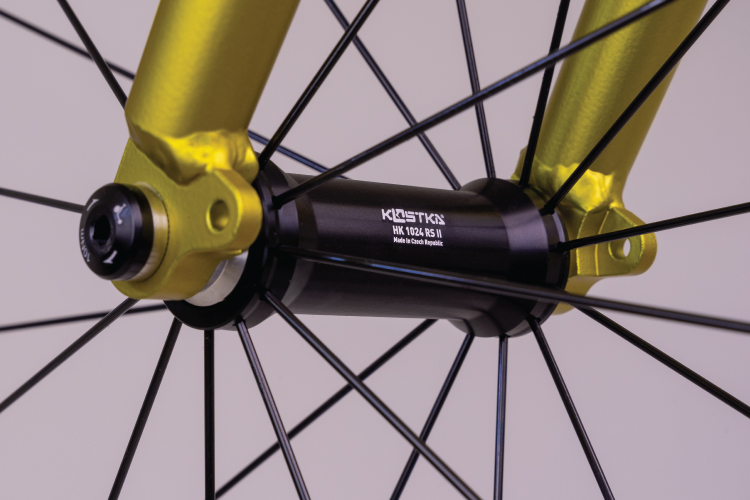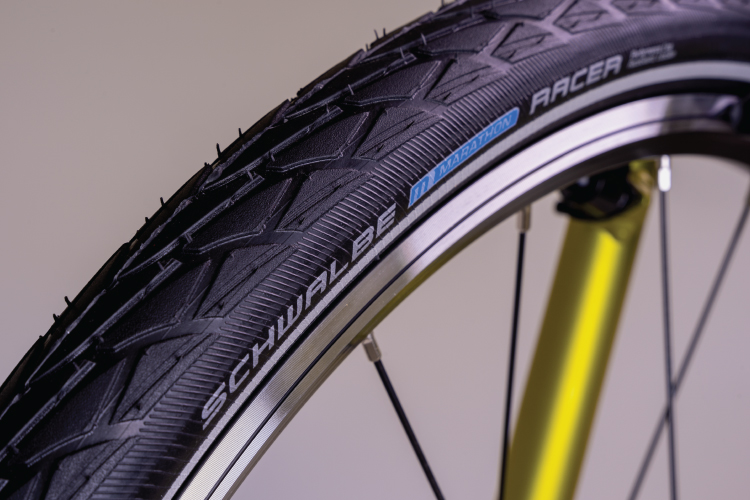 When tires matter.
Schwalbe Marathon Racer tyres are the lightest tyres in their category. A special rubber layer reinforced with a double nylon membrane provides puncture protection. The SpeedGrip natural rubber compound ensures excellent handling characteristics with minimal rolling resistance. The tyres feature a reflective side stripe and can be inflated with high pressure. The choice of tyres is one of the main aspects of a comfortable and effortless ride in footbikes.
Driving that will thrill you.
Thanks to the ergonomic KOSTKA FBH 680-50 Al Wings handlebars, which have been developed specifically for cycling, you'll know true comfort. The ends of the handlebars are adapted to your wrist and natural grip, so there is no unnecessary strain on your wrists. The shape of the handlebars also provides additional space for rebound. The silicone grips dampen micro-vibrations generated while riding. The new semi-integrated head tube provides an even more rigid and precise fit of the fork in the frame.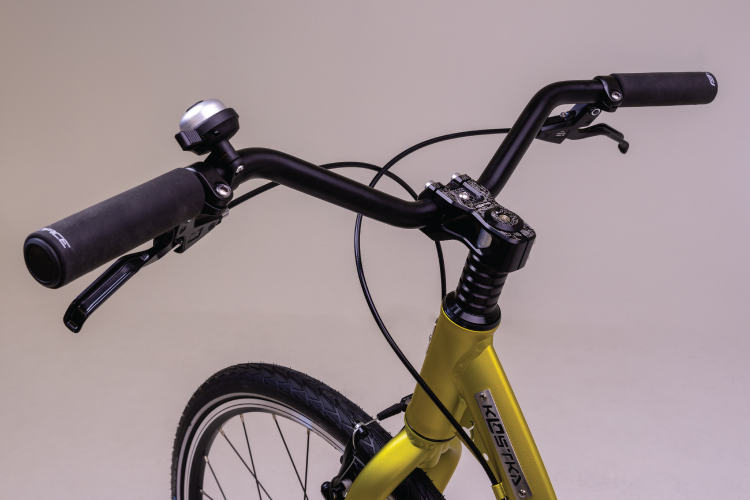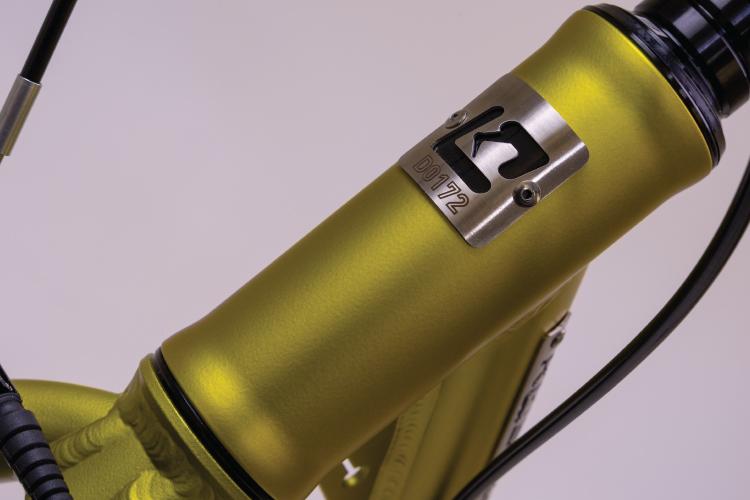 It's safe.
High-quality Shimano 4000 brakes together with double-wall rims with a reinforced wall and a turned braking surface for increased braking performance, guaranteeing maximum safety and precise delivery of braking force. Ergonomic levers provide perfect comfort. The brakes are also easy to maintain and adjust and are highly resistant to external influences.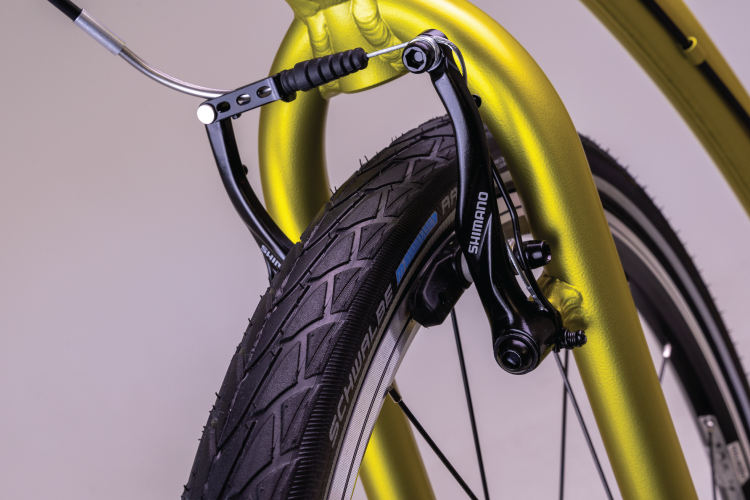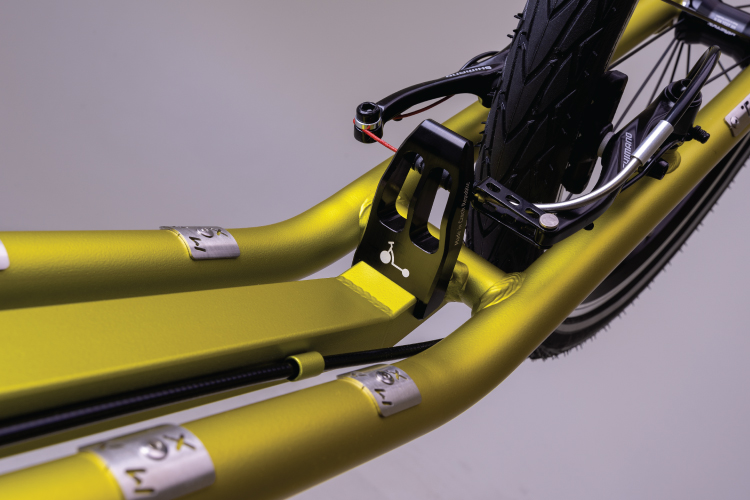 Kick off. Bring it up.
The rear heel stop ensures a firm and accurate standing leg position. It is made by milling from high-strength aluminium alloy. Use is found when bouncing or elevating the footbike foot when negotiating obstacles such as curbs. Its shape is optimized for all types of footwear. It can also be completely removed. The heel stop extends the tread surface and increases the space for the rider, making it a little easier to bounce and change feet.
Simply let yourself be enchanted.
Remarkable details that will amaze you. Polished stainless steel logos or laser engraved components. A solution that gives the footbike a distinctive look and a touch of luxury. Your safety is enhanced by the reflective elements placed on each part of the footbike. All underlined by precise workmanship.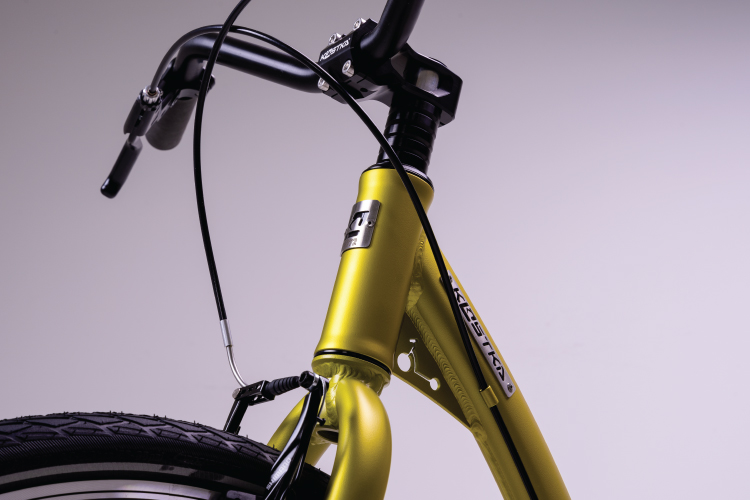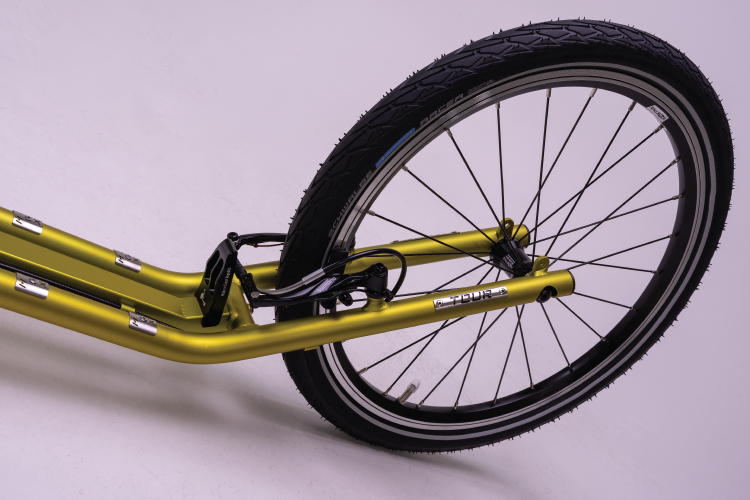 High-tech. Czech production.
We use the latest technology from the design and creation of parametric computer model of the footbike, testing to complete production, so we can afford to work with even the finest nuances of design and processing. Production is done "in-house", so we have everything under control.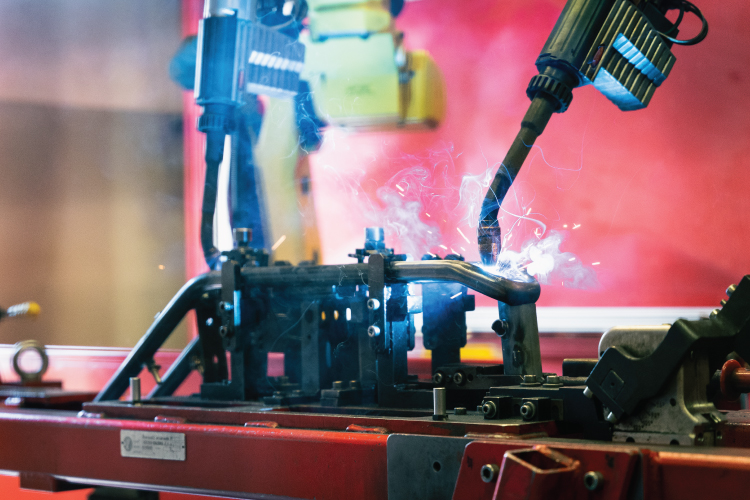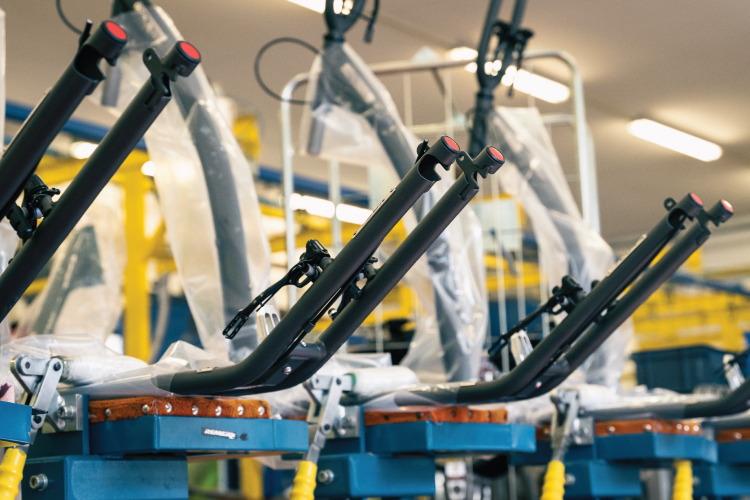 Equip yourself for the road.
Choose from Kostka's unique ecosystem of accessories designed specifically for your footbike and be prepared for any situation that may arise. Choose from carrying bags, fenders, holders, footbike stands, lights and  other accessories to ensure you enjoy your exploration of new experiences and memories.