The tires have to provide not only low rolling resistance but also sufficient comfort while riding. Thus we only use the tires from renowned manufacturers.
---
Kenda

KENDA is one of the world's largest manufacturers of cycling tires and tire tubes.
---
Kenda Khan
Basic tire type Ensures comfortable ride on a wide smooth mid-section and good traction - thanks to the tread on the sides. Perfect, comfortable tracking tire for everyday use.
---
Schwalbe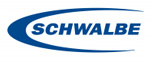 We are aware that the tires are a very important footbike component. That's why we use the tires from the renowned German company Schwalbe. Most of these tires are also equipped with a reflective stripe on the lateral side in order to increase passive safety.
---
Schwalbe Big apple
Integrated springing 10 years ago, it began the trend of balloon tires with the Big Apple: Instant comfort without expensive technology! The tire air cushion is used as a natural springing. With a pressure of ca. 2 bars, the balloon wheel turns lightly while fully springing. A standard 37mm wide tires have to be inflated to at least 4 bars to roll equally.
---
Schwalbe Marathon
Original product. The forefather of all first-class tires. The inlay GreenGuard high elastic rubber is 3mm thick. One third of GreenGuard is made from recycled latex products. "Anti-aging" - the side tolerates typical strain caused by low pressure significantly longer than ugly cracks appear.
---
Schwalbe Marathon Racer
These are the lightest tires in their category. A special rubber layer reinforced with a double nylon membrane provides protection against any defect. The natural rubber SpeedGrip mix gives the footbike the perfect driveability with min. rolling resistance. The tires can be inflated with high pressure.
---
Schwalbe Marathon plus
Impenetrable tire This tire is best protected against any defect. Beside its excellent protection, it has many inner values: Rolling resistance. The patented, 5mm thick SmartGuard has a significant advantage over all other imitations in low rolling resistance. Recycling. In case of SmartGuard, we use recycled rubber from old latex products as well. Anti-aging lateral side of the tire It sustains typical riding damage under the pressure much longer after ugly cracks appear.
---
Schwalbe Marathon Supreme
Dynamics in its purest form: The model Supreme was the first Marathon in the Evolution Line. Now it's coming the second generation. The new mix OneStar makes it even faster! With the new profile, it not only looks good but it also goes even faster than before.
---
Schwalbe Kojak
Kojak doesn't make compromises. The road is its home. Fast and sporty slicks without profiles and other unnecessary things weighs only 295g (size 35-559). Safety is guaranteed by the reflective logo and the RaceGuard belt. The reflective logo does not replace the reflective strip or reflectors (as per StVZO).
---
Schwalbe Durano
Perfect for "mile-devourers". The favourite Durano has a completely new design and is now about 10g lighter. Its unique properties have been maintained. Extremely long durability, a double mix for improved adhesion on wet roads. Reliable belt RaceGuardPro for delighted footbikers.
---
Schwalbe Black jack
Universal terrain profile with good engagement and acceptable rolling.
---
Schwalbe Nobby Nic
A universal that works in every situation, it doesn't mind what weather it is or what terrain it rides. Profile Design: Perfect traction and braking allowed by the special block arrangement on the centre, large blocks on the edges ensure an excellent control.
---
Schwalbe Mad Mike
Reliable universal terrain profile. New with the KevlarGuard protection: reliable protection made from special rubber and kevlar fibres.
---
Tufo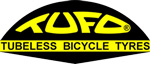 The company TUFO was founded in 1991 and has begun more than 25 years of experience in the rubber industry of Mr. Miloslav Klabal - the founder and the spiritual father of the company in one person.
---
Tufo elite jet (tubular tire)
Despite the incredibly low guaranteed weight, this model has good defect resistance and good kilometre performance . It can be inflated very tight, which minimizes the rolling resistance.
VECTRAN DEFECT BARRIER - This highly effective anti-defect system protects the tire in the most vulnerable place (under the tread) and secures its best protection possible. It improves the stability as well while turning.