Five reasons to go on a footbike trip.
REASON ONE: IT IS A MOVEMENT THAT IS GOOD FOR THE BODY
Riding a footbike is very healthy for the body.
"Riding a footbike helps to stabilise the hips and torso. At the same time, the largest muscle groups are strengthened, including the deep stabilization system of the spine, thus influencing and compensating for muscle imbalances. This is not the only reason why the cycle is a suitable compensatory exercise often used as a post-injury therapy,"

says Kamil Ramík, MD, a specialist in medical and sports rehabilitation.
THE SECOND REASON: THEY ARE UNIVERSAL AND FOR EVERYONE
A footbike is not a bike. You don't get on it like a horse, you don't have to balance before you find the other pedal and you don't struggle with your balance before you get going. What's the bottom line? footbikes have an age range of usability from 4 - 99 years and according to the Czech manufacturer of footbikes Kostka, people over 50 are very frequent customers. In addition, they are basically universal - if you have one big footbike at home, almost any family member can ride it, except for small children, there is no need to deal with size and setup as with bicycles. Rather, you can expect to start arguing about it soon enough and get a second one.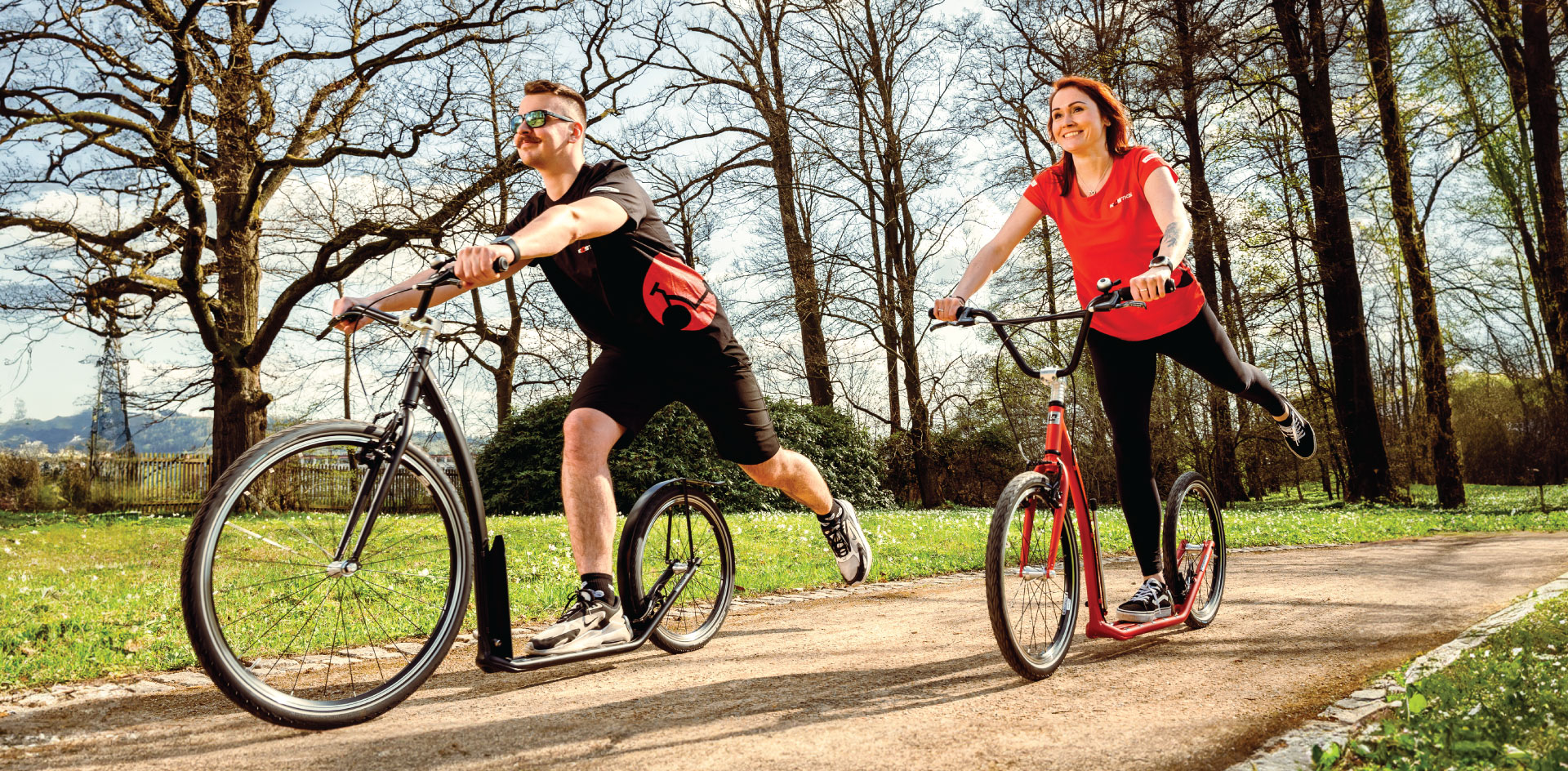 REASON THREE: ADVENTURES, FUN AND EXERCISE
You can set off on a footbike to meet new experiences, you just need to choose the right one. Try the KOSTKA TOUR FUN footbike, which will surprise you not only with its affordable price but also with its versatility. You'll enjoy faster rides on asphalt roads and more adventurous rides on gentle terrain. If you are looking for new routes, check out the website guvodce-kolobehem.cz, where you will find tips for footbike trips all over the Czech Republic. There are detailed descriptions with the difficulty of the route, a map and information on what attractions you can find around the route and where you can rest and refresh yourself. On the website you will even find recommendations on footbike riding technique to engage your body properly and exercise every muscle.
REASON FOUR: THEY ARE SAFE
footbikes are certainly a safer means of transport than the aforementioned bicycle. You're not sitting on a high saddle and both feet are basically on the ground all the time. Good quality big footbikes have just as reliable Shimano brakes as high-end bikes, and unless you're hurtling down an adrenaline-pumping hill without braking, there's basically no way you're going to fall off. Anyway, that doesn't mean you should underestimate the risk of a crash, for example, and not wear a helmet, even if it's not compulsory from the age of 18.
REASON FIVE: TOGETHER WITH FAMILY, FRIENDS AND YOUR DOG!
It is all connected - from the previous points it follows that you can enjoy riding the big footbikes both alone and with your partner, family, friends. It is no problem for a grandchild, grandparent or a group of young teenagers to go on a nice trip together through the flat beauties of South Bohemia. You can stop at any time on the footbikes, look at a beautiful tree or chapel, take a picture of the castle over the river or chat while riding. What's more, with footbikes adapted for mushing" you can even take your dog out for an active trip and enjoy another dimension of cycling with your four-legged family members. So what are you waiting for?